Fabric > By Designer > Howard Marcus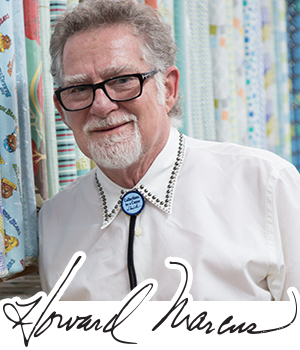 Howard Marcus Dunn is the founder and owner of United Notions. He's better known as Mark Dunn.
In 2008, he created Collection for a Cause as an ongoing series to benefit and support charities and causes that touched the hearts and lives of all of us. Many of the quilts are based on antiques in Mr. Dunn's collection.
Collection for a Cause – Preservation is the nineteenth collection in the series. Based on a spectacular Medallion quilt from their permanent collection, Preservation will benefit the International Quilt Study Center & Museum in Lincoln, Nebraska. Collection for a Cause – Sunshine will debut at Fall International Quilt Market 2016 in Houston.

https://modafabrics.com/designers/howard-marcus
Showing 1 - 38 of results