Fabric > By Designer > Kate Spain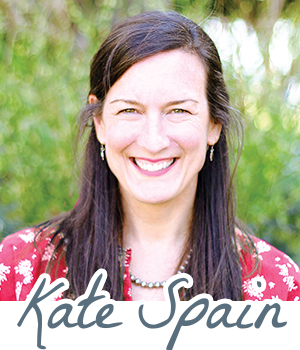 Kate Spain has carried a sketchbook since she was a child. She eventually drew her way to the Rhode Island School of Design where she earned a BFA in Graphic Design. It was there that she began to refine her visual voice through drawing, painting, photography, printmaking and graphic art. Since her school days, she has worked to develop and expand her unique style through experimentation, travel, and by always keeping her sense of wonder.
Kate's designs have been featured on products at Crate and Barrel, Bloomingdale's, Nordstrom, Frontgate, Target, and other leading retailers. Her designs can be found on many home décor products, from handmade rugs to pillows, bedding, and kitchen textiles.
Kate writes… "I am so happy to create collections exclusively for Moda and to share them with you and other quilters and crafters around the world. I'm an avid gardener and much of my inspiration can be found in Nature – an unlikely color combination that catches my eye, close-up views of flowers and foliage, or in the random patterns and compositions that create rhythm in the landscape. In my studio, I try to translate these natural inspirations into artwork. No matter where I begin my design process, I always end up in a new place. It truly is an adventure that I'm excited to embark on again and again. I hope you enjoy where your creativity and wonder take you, too!"
https://modafabrics.com/designers/kate-spain
Showing 1 - 20 of results